Event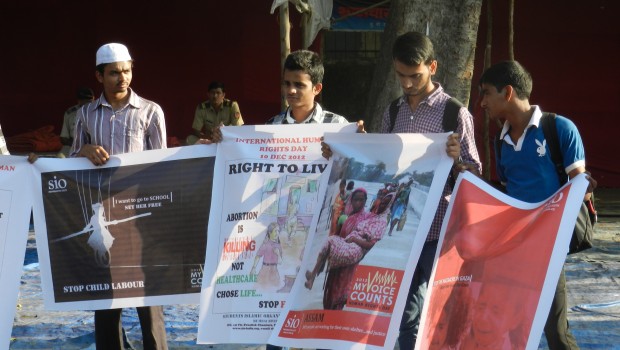 Published on December 11th, 2012
0
Rally around for human rights
NGO to hold rallies, informal meetings and lectures to spread awareness of human rights violations. Human Rights Day was yesterday.
The Students' Islamic Organisation (SIO) of India's Mumbai chapter yesterday held a meeting to brief the press and the public about its programme to spread awareness of human rights violations, both in India and abroad. A major talking point for the meeting was the ongoing crisis at Gaza, and the numerous reported human rights violations happening there.
As per a member of the SIO, Mumbai, "On the occasion of World Human Rights Day, we decided to hold a meeting to discuss the ongoing human rights violations in Gaza, as well as the State-sponsored imprisonment of several Muslim youth in jails on the wrongful accusation of them being terrorists. Besides this, we are also addressing such issues that affect the society in terms of education and employment, as also the effect of extremist speeches and writings on people and the loss of personal liberty."
The SIO plans to implement its programme through a series of events, such as public lectures, essay writing competitions, lectures in colleges, youth meets, 'corner meetings', discussions and analysis of the Human Rights Charter, displaying human rights posters, and human chains at various points in the city.