Event
Published on February 17th, 2013
0
Raj Bhavan produces 'King of roses'
A rose from the State Governor's official residence, Raj Bhavan, was selected as the winner in flower show at VJTI.
Sure, a rose by any other name would smell as sweet, but it wouldn't necessarily win first prize. Raj Bhavan Nagpur yesterday was adjudged the winner at the VJTI's flower, fruit and vegetable show. The show is organised annually by the Friends of the Trees and had about 200 organisations plus individuals participating.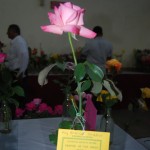 A rose grown at Nagpur Raj Bhavan's Biodiversity Park was adjudged the winner by a committee of experts. Interestingly, another variety from Raj Bhavan had won the first prize at the All India Rose Flower Show at Jabalpur recently.
As per the organisers, "More than 500 varieties of different species of vegetables, fruit, flowers and shrubs, and trees are displayed under 100 different categories at the show. A large number of orchids, cactii, fern, medicinal, aromatic plants, hanging baskets, sunny and shady plants, landscapes and artistic display of fruit, flowers and vegetables can be seen at the show." The show concludes tonight.
Organisations such as Raj Bhavan, Central Railway, Western Railway, Parks and Gardens and organisations from the private sector such as Godrej, Hiranandani, Tata Power, Raheja and Reliance participated in the show.