Event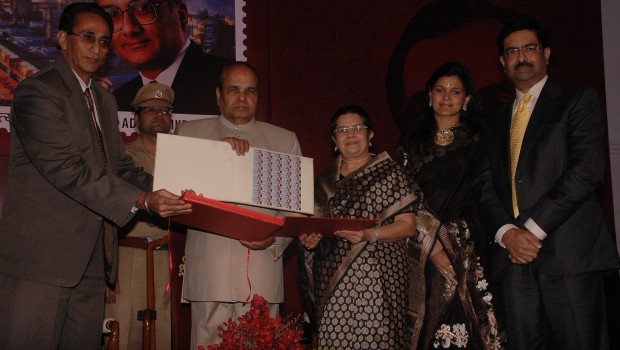 Published on January 20th, 2013
0
New stamp commemorates late Aditya Birla
State Governor released the stamp in the presence of the Birla family; slammed other family-run businesses for lack of ethics.
The Governor of Maharashtra, K Sankaranarayanan yesterday released a commemorative postage stamp on late industrialist Aditya Birla. The function was held at Raj Bhavan, Mumbai, in the presence of other prominent Birla family members such as Kumarmangalam Birla, Neeraja Birla and Rajashree Birla, among others. The Post Master General of India was also present on the occasion.
In his speech, the Governor said, "Only five days ago, the Honourable President of India had released the commemorative stamp on late Shri Aditya Birla at Rashtrapati Bhavan in New Delhi. I am happy that we are celebrating the occasion here in Raj Bhavan, Mumbai. Although belatedly, I am glad that we are honouring one of the greatest pioneering business leaders of India late Shri Aditya Vikram Birla in a befitting manner."
However, while praising the late business icon, the Governor slammed other businesses in India. He said, "Unlike other family-owned businesses in India, the Birla Group definitely stands out as one of the most respected business groups for two reasons. The first and foremost reason is the association and involvement of the Birlas in India's freedom struggle. The late Shri GD Birla (Aditya Birla's grandfather) was a close confidante of leaders like Mahatma Gandhi, Pandit Nehru, Sardar Patel and many others.
The second reason why the Birla Group is a respected name is because of the integration of ethics and values by the Birla Group with business. The name Birla at once inspires trust and confidence because of the adherence of the Group to these values."
The Governor went on to extol the virtues of the late business leader, saying that he was "a silent business revolutionary who foresaw the winds of globalisation coming to India much before others. He was not one to blame the system for the unfavourable business atmosphere prevailing in those days. He worked his way out to put Indian business on the global level as early as in 1969. He went on to set up 19 companies outside India in countries like Thailand, Malaysia, Indonesia, the Philippines and Egypt. The postage stamp is a just recognition of his formidable work for the Birla Group and for the nation at large."
(Picture courtesy Raj Bhavan, Mumbai)