Event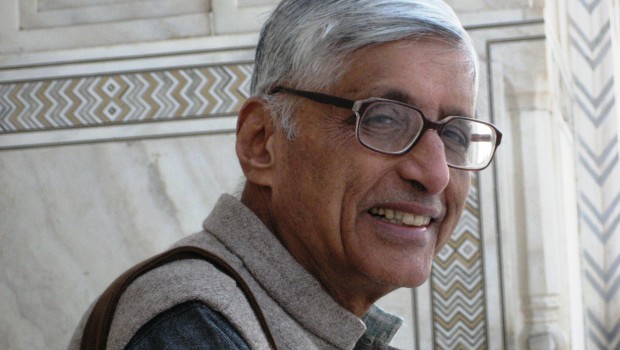 Published on November 19th, 2012
0
New Gandhi on the block
Mahatma Gandhi's grandson Rajmohan Gandhi has recently become a grandfather – the child was born last month in the US.
by Humra Quraishi
I have often wondered if the Indian political scene would have been any different if Mahatma Gandhi's children, grandchildren and great grandchildren had stepped in and got into the thick of things. Sure, his grandson Rajmohan Gandhi (son of Devdas Gandhi) had been politically active for a brief while, but then he moved far away from it, taking to academics and writing on a full-time basis. But Rajmohan and Usha have now been blessed with a grandson! A new Gandhi is born.
I have known Rajmohan and his wife Usha for several years now. Their daughter Supriya  and my daughter Sarah studied together  in college and were great friends, and through the girls, we parents got to meet each other. They – Supriya and Sarah – were pursuing Philosophy honours at Delhi's St. Stephen's College. We'd resided quite close by on  Lutyen's Delhi Shahjahan and Pandara Roads, so the interactions grew. And what struck me about the couple was the simplicity at Usha and Rajmohan Gandhi's home – they believed in simple food, simple clothing, and the very basics required for living.
About 12 years ago, Usha, Rajmohan and their two children, Surpiya and Devadatta, shifted to the United States. Rajmohan is currently a Research Professor at the Center for South Asian and Middle Eastern Studies, University of Illinois at Urbana-Champaign, USA, but the family comes to India almost three or four times a year.
A few years ago, Supriya married an academic, Travis Zadeh. The wedding was a simple affair – just flowers and diyas dotting the lawns and  in the midst of it sat the guests. Perhaps in keeping with Mahatma Gandhi's stress on simplicity, his great grand-daughter Supriya Gandhi's marriage was one of the most austere marriage ceremonies anyone's ever attended. There was no band, dholak, shehnai or music of any strain, no horses or elephants, no dolis or carts, none of the usual tamashas. Friends and close relatives were served vegetarian snacks and fruit juice. The same was offered to the baraatis who had come all the way from the US with the groom, Travis, who is of mixed American-Iranian parentage.
After all these years, it brings me a quiet happiness to know that Supriya, my daughter's friend, is now the proud mother of a baby boy. The child was born last month in October in the US. They have named the child Anushirvan Gandhi-Zadeh. Anushirvan in Persian means 'one possessing an immortal soul'.
Humra Quraishi is a senior political journalist and author of Kashmir: The Untold Story, and co-author of Simply Khushwant.