Event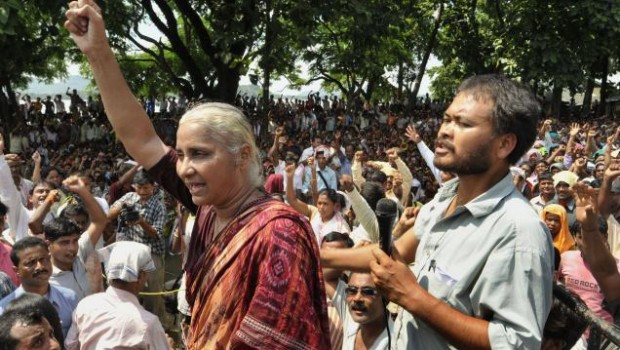 Published on March 7th, 2013
0
Medha Patkar arrested from Golibar Maidan
Activist arrested from Khar site where slum dwellers are being evicted all day. Protesters allege that cops have thrashed them.
by National Alliance of People's Movements
In a series of illegal actions against the urban poor in Mumbai, the city Police today came down heavily on Medha Patkar and a group of people resisitng the illegal evictions at Golibar, Khar (East). Other active local residents including Prerna Gaikwad, Ajit and 20 men and women have also been arrested this afternoon. Those protesting have been beaten up very badly by the police and goons on behalf of Shivalik Builders, in the presence of MHADA engineers and officials. The latest information is that at least 10 houses have been demolished at Golibar.
A posse of police vehicles and JCB machines are still at the place and the demolition drive is still on.
The bulldozers at Golibar, a 50-year-old slum, are once again out to demolish and evict the slum dwellers who have been fighting corruption and a land grab by Shivalik Ventures, in which the 2G Spectrum scam-ridden Unitech has a stake. In the past, the slum dwellers have repeatedly opposed and exposed the illegal acts of the private developers who are all out to grab the land. It was only after the expose that the Chief Minister of Maharashtra scrapped the two 3K projects.
Even now, as usual, no notice has been served on the people before the demolitions. The Bombay High Court had directed that the residents must be relocated to a good transit camp that is in a completely livable condition, and also directed that individual agreements with the residents must be registered. However, without following this directive of the High Court, the demolitions are continuing in a totally illegal maner. It is also significant to note that as recently as on January 18, the CEO of the Slum Rehabilitation Authority (SRA), Nirmal Deshmukh, ordered a halt to the demolitions, but the same has started once again, with MHADA's intervention."
Update: The NAPM has demanded the immediate release of all detainees, and immediate action on the police personnel involved in the demolition drive. Another demand is for action against Shivalik Builders for several alleged illegalities and encroachments on the land by the firm.
(Picture courtesy thehindu.com. Image is a file pic)