Event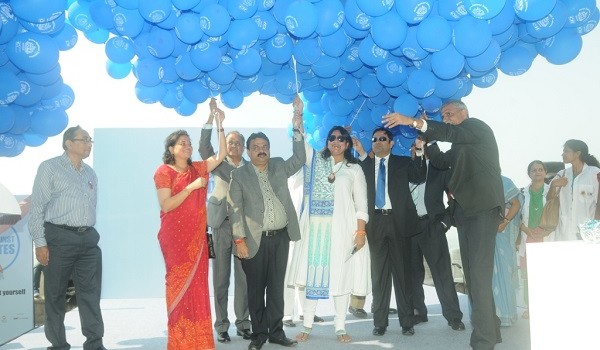 Published on November 13th, 2013
0
Massive diabetes awareness drive in Mumbai today
BMC and CII join hands for 'Drive against diabetes' across city; want to screen 2,00,000 Mumbaikars across the city today.
by The Editors | editor@themetrognome.in
With World Diabetes Day around the corner, the Confederation of Indian Industry (CII) and Municipal Corporation of Greater Mumbai (MCGM) launched a  'Drive against Diabetes' campaign yesterday. The public private partnership model hopes to mobilise people to join the fight against diabetes – they are aiming to screen at least 2,00,000 people across the city today.
Corporates like Apollo Hospitals, Apollo Munich, OneTouch, Abbott, SANOFI and several others have come forward to support the initiative. Screening centres will be marked by blue balloons – citizens must simply walk in and ask to be screened.
Prabhu said, "Today, diabetes is one of the major conditions affecting people's health and lifestyle. It is estimated that by 2030, the diabetic population will be around 10 crore. Out of which 6.2 per cent are expected to be suffering from diabetes and 15 per cent from blood pressure. Within India, Mumbai is leading this race to the top – the city experiences a hectic work culture, high levels of stress and fewer sleeping hours. During the drive, we expect that even if 10,000 to 12,000 people are tested positive for diabetes, we will incorporate that in the MCGM's database and an SMS alert will be sent to them after three months suggesting the next level of detailed diagnostics. The testing of 2,00,000 people in a single drive is a record in itself, but I will be happy if 5,00,000 people are tested in the next drive and fewer are diagnosed positive for diabetes."
The BMC had started a drive against diabetes in 2011, when 21,700 people were diagnosed with diabetes at the dispensary level. Currently, there are more than 86,000 diabetics on the BMC database. "Of these, 15 per cent who are at the initial stage [of the disease] are being suggested lifestyle modifications and 61 per cent and 22 per cent detected with controlled and uncontrolled diabetes respectively are under the MCGM medical care programme," says Manisha Patankar-Mhaiskar, Additional Municipal Commissioner (Western suburbs). "But the ambition is to create awareness of diabetes and not to focus on numbers," she adds.
Over 500 screening centres will be set up today across the BMC's ward offices and in over 40 member companies of CII (Reliance, Larsen & Toubro, ICICI, Star Indian, Mahindra, Bajaj, Blue Dart, etc.), chemists, pharmacists and public places in Mumbai that will target to screen over 2,00,000 individuals reaching out to the workforce as well as the larger community. Blue balloons will identify these centres. Over 700 paramedics will also be mobilised across Mumbai to test individuals across industries. The private sector has come forward to provide screening kits including glucometers, strips, swabs, lancets, information booklets and questionnaires alongside training and capacity building for the paramedics.
"This drive will generate significant data which will help understand the incidence and prevalence of diabetes," Patankar-Mhaiskar says. "It will be analysed to generate a final report on the state of diabetes prevalence in Mumbai, generic recommendations on the way forward as well as lessons learnt during this massive community led drive. Such a report will be useful to policy makers, programme officers, healthcare providers as well as other agencies working in the area of diabetes."