Event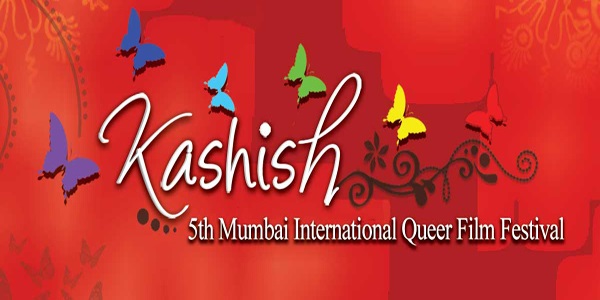 Published on May 16th, 2014
0
Kashish Film Festival registrations currently on
The festival's theme this year is 'Dare to Dream' and recognises progressive movements for equality, dignity for the LGBT community.
by The Editors | editor@themetrognome.in
The Kashish Mumbai International Queer Film Festival – arguably South Asia's and India's biggest LGBT film festival – is back for the fifth year, with a huge collection of 154 films from 31 countries. India's only mainstream lesbian, gay and transgender film festival and one of the first to receive clearance from the Union Ministry of Information & Broadcasting will take place between May 21 to May 25, 2014, at the iconic Liberty Cinema, New Marine Lines and Alliance Française de Bombay.
The festival's theme this year is 'Dare To Dream' and recognises the progressive movements for equality and dignity for gay, lesbian and transgender persons across the world, including India. "Kashish 2014 will highlight, reflect upon and celebrate the people, communities and movements that 'Dare To Dream'", says a press release by the organisers.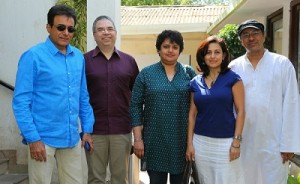 The festival's jury this year comprises trailblazing actors and filmmakers with multiple National Film Awards between them. National award winning actor Sarika, filmmaker Onir whose film I Am won the National award in two categories, actor and former Member of Parliament Nitish Bharadwaj, costume designer Pia Benegal, actor Avantika Akerkar and Wadia Movietone director and LGBT rights activist Roy Wadia will judge the films in competition at the festival for the seven award categories. (See pic of jury members on left)
"Equality is the foundation of a peaceful society and equal rights is what Kashish is all about," said Bharadwaj, who is still remembered for his role of Krishna in BR Chopra's Mahabharata, at a press conference to announce the festival. "When I was asked what I feel about the LGBT community, I said that they are human beings just like me. The respect that I get, they too should get. The day when Kashish no longer needs tags and labels, only then can we say equality has been achieved. One of the main reasons I agreed to be on the jury was the hunger as an artist to see and appreciate good cinema.''
Akerkar said that initially she had questions about the word 'queer'' in the film festival's name. "I was told that there was nothing wrong with the word and was in fact, a way of appropriating words to empower,''she said. "It's great to see that Kashish will have 11 world premieres. I haven't even seen this in many mainstream festivals and speaks volumes about the status that this film festival has achieved.''
"This year's Jury reflects once again the diversity and richness of professional experience that the Jury panel brings to Kashish every year,'' said Sridhar Rangayan, festival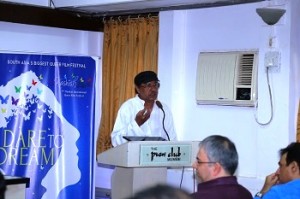 director (in pic on right). 
"At a time when LGBT rights are under attack by powerful players in India and overseas, no doubt in response to the gains we have made in recent years, it's more important than ever for Kashish and similar events to prosper," noted Roy Wadia, LGBT rights activist and Director of Wadia Movietone.
Key highlights for this year:
* 154 films from 31 countries.
* 11 World, 17 International and 39 Asian premieres.
* New venue is India's finest art deco theatre – the iconic Liberty Cinema with over 1,000 seating capacity.
* Crowd funding to raise part of the funds to put up the festival – the first film festival in India to do so.
* This year, the 'Country Focus' will be on Canada with more short and feature films including Winter Kept Us Warm (1965).
* 'Filmmaker in Focus' is Canadian actor Charlie David.
* Special focus on Transgender lives
* Films on HIV.
* Queer films from Turkey, Srilanka, Uganda, Bangladesh will be screened.
* Opening Film Out In The Dark from Israel and Palestine.
* Closing Film is John Apple Jack from Canada
* Tribute to late filmmaker Rituparno Ghosh and screening of the movie Memories in March.
* Indian Showcase: 28 films from India – some in regional languages including films in Marathi and Bengali.
Register to attend Kashish at www.mumbaiqueerfest.com. Offline registrations are currently on at Liberty Cinema, New Marine Lines and Humsafar office in Vakola and Khar.