Event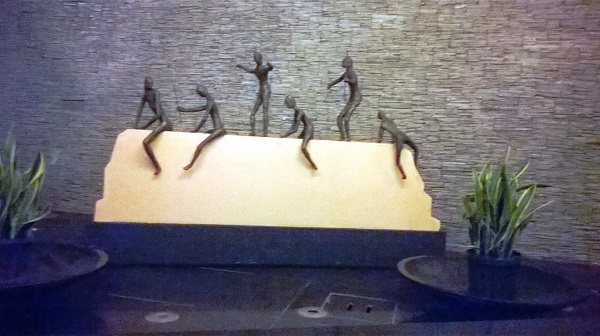 Published on September 24th, 2014
0
High Street Phoenix opens its doors for art
The South Mumbai mall is currently offering visitors the chance to look at various art installations crafted by six Indian artists.
by The Editors | editor@themetrognome.in
Till the end of this month, you can walk into High Street Phoenix and get a first look at various art installations by various eminent and upcoming city artists. On from September 4, 2014, the installations will be available for viewing till the end of this month.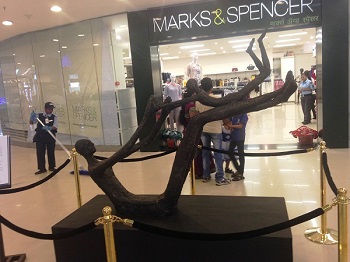 Featured artists are Sanjay Kumar Srivastava, Gajanan Choukhande, Reha Shishodia, Nayanjeet T Nikam, Abhijit Salunkhe and Siddhesh Chavan. The centre piece of this art showcase is Choukhande's 'Creator', located at Palladium Level 1, symbolising how the hand is the creator and facilitator of things. Shishodia and Nikam bring together the 'Tree Of Life', while upcoming artist Chavan captures the friendship between a mother and her child in the namesake artwork 'Mother & Child' (in pic on left). Apart from this, he is also showcasing two creations from his going back to childhood collection 'Playground' and 'Joyride'. Salunkhe's works, 'Growth' and 'Fish Eye' are cast in metal and reveal meticulous crafting.
The piece de resistance in this selection is internationally renowned Sanjay Kumar Srivastava's 'The Ultimate Rotation' (in pic on right) which
poignantly captures how the hand of time is intrinsic to our existence.
Speaking about the installation, Rajendra Kalkar, Senior Centre Director, High Street Phoenix  said, "High Street Phoenix and Palladium are the centrepieces of South Mumbai's retail space and as such deserve to reflect their ethos of being a place where form meets function in spectacular fashion. By strategically placing art sculptures and installations in various spaces throughout the mall, we are looking at creating a pleasing aesthetic which will merge seamlessly with the rest of the ambience of high-end retail spaces by creating an extremely pleasing experience for shoppers."
Head to High Street Phoenix till September 30 from 11 am to 10 pm daily.