Event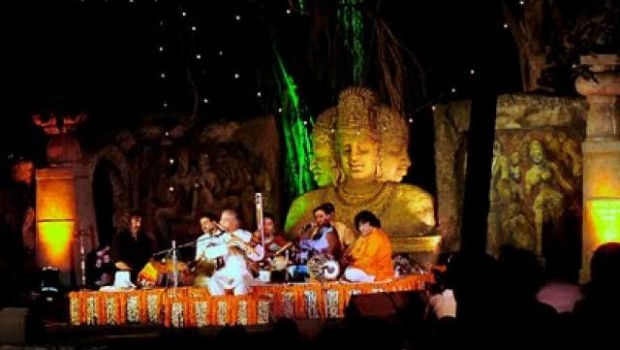 Published on February 28th, 2013
0
Elephanta Festival kicks off over the weekend
The theme for the noted musical fest combines Hindustani classical music with western fusion, and invites amateur painters as well.
This unique music and art festival was shifted from its excellent location two years ago, but it is back where it truly belongs. The Elephanta Festival 2013 kicks off at the Elephanta Caves on Saturday, March 2 and ends the next day. As always, stalwarts in music comprise the lineup of performers at the fest this time around, too.
Organised by the Maharashtra Tourism Development Corporation (MTDC), the fest will be officially announced by State Tourism Minister Chhagan Bhujbal tomorrow. This year's edition of the Elephanta Festival will witness performances in both Hindustani classical and Western fusion music.
Dr Jagdish Patil, Managing Director, MTDC, says, "While the festival will include some of the best performers from across the globe, the theme will retain its objective to promote Indian culture and expose it to the world and the nation. The participation by international artists in Indian art forms will position the festival as a leader in promoting Indian heritage not only in the State, but across the nation and in the international circuit, putting the Elephanta Festival on the international tourism map."
The fest also invites professional as well as amateur painters irrespective of age and experience to attend the event. Organised in association with the JJ School of Art, the theme of the painting competition is to paint the Elephanta caves and statues at the location on both days from 10 am to 2 pm. "The art materials would have to be carried by the participants, and they have to register at the venue and submit the entry at the location itself," says Dr Patil. The top three prizes comprise cash amounts of Rs 50,000, Rs 25,000 and Rs 10,000 respectively.
For history and heritage enthusiasts, there are  guided tours of the Elephanta caves under the guidance of Dr GB Deglurkar, President, Deccan College, who will share his knowledge on the detailing of the sculptures and caves of Elephanta Island. Also, noted artist Chandrajit Yadav will replicate the cave sculptures in mud during the Festival.
Line up of artistes slated to perform:
March 2, 2013, Day 1:
7:00 pm – 7:30 pm: Shweta Pandit (opening ceremony with Saraswati Vandana)
7:30 pm – 8:15 pm: Sannidhi, confluence of seven Indian Classical Dance Performances by Parvathy Dutta
8:45 pm – 10:00 pm: Vishnamo, Shujaat Khan (Sitar and vocals); V Selvaganesh (Kanjira); Ganesh and Kumaresh (Violin); George Brooks (Saxophone)
March 3, 2013, Day 2:
7:00 pm – 7:45pm: Prabhakar Karekar, Hindustani classical vocals
8:00 pm – 8:45 pm: Manjari Chaturvedi, Sufi Kathak; Awadh Gharana musicians
9:00 pm – 10 pm: Ranjit Barot (Drums); Punya Srinivas (Veena); Elie Afif (Upright and electric bass); Harmeet Manseta (Keyboards); Aditya Benia (Guitar)
(Picture courtesy meriyatrra.com. Image is a file picture)