Event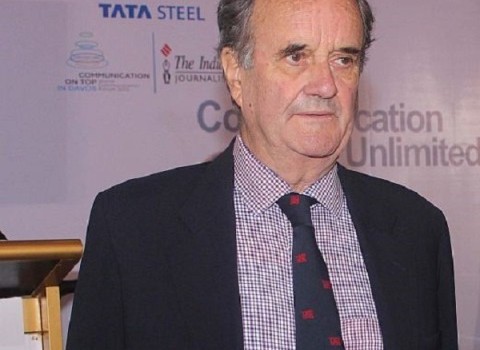 Published on October 23rd, 2013
0
"Crisis of credibility in journalism": Sir Mark Tully
Noted journalist and author Sir Mark Tully puts today's journalism in perspective, and talks of the challenges of establishing credibility.
by Salil Jayakar
At 78, he's far more energetic and enthusiastic than most people of any age are. His mind and memory are still as sharp as ever. No wonder then he continues to be an authority on India several years after he left the BBC. And unlike most of his ilk, he doesn't hesitate to give credit where it's due. "Let me clarify again, it is always erroneously mentioned that I first broke the news of Indira Gandhi's assassination. I did not. In fact, it was my BBC colleague Satish Jacob," he stated.
Meet Sir Mark Tully. Almost priest, journalist, author and Indophile, whose love affair with India continues…
In Mumbai over the weekend of October 17-18, Sir Mark spoke at Com Fest 2013 organised by the Association of Business Communicators of India (ABCI) at the Taj Mahal Palace & Hotel, Colaba. Like most British people, his self-depreciating humour was there for all to see. For me, as an ex-journalist and media professional, it was a bit of a fan boy moment as I had the opportunity to interact with him.
Sir Mark, without a doubt, has inspired young journalists in India and abroad with his no-nonsense style of reporting, which is why we need to sit up and take notice when he declares: "There is a crisis of credibility in journalism today" with reference to the UK phone hacking scandal and the kind of live news journalism we see in India. According to him, the dangers of instant communication to journalism are real – as seen during the Varanasi bomb blasts and the Mumbai terror attack.
"Journalists today speak instead of writing or telling a story. They are talking, instead of crafting a story. At a time when mobile and television can communicate a message in an instant, there is a real danger of miscommunication," he said. How do journalists then maintain their presence? "Journalists need to be trusted. More so now in times of the Internet; they need to carry the torch of reliability and trustworthiness."
Citing the BBC, Sir Mark had harsh words for his former employer and says the credibility of the BBC Trust has been severely undermined by the hacking scandal and the Jimmy Savile sexual abuse scandal. He stressed the importance of a media regulator that has both politicians and journalists on its Board. Dismissive of the Indian Broadcast Editor's Association, he says they are not doing a good job. According to him, a public service broadcaster (PSB) is necessary and should be independent of the government to be able to do a good job.
Sir Mark lamented the fight between management and editorial, the realities of running a paper or TV channel and the need to make money or profit. He believes that management has to realise that journalists are creative people and need to have the last word on a story. "The editor needs to be in control at all times. Irrespective of commercialisation, news needs to be credible and trustworthy. There has to be a balance between credibility and commercialisation," he stated.
In his sartorial style, Sir Mark summed up the state of journalism and journalists today when he said, "Journalists need to keep in mind – this is not my story, it's the story of the person."
(Picture courtesy ABCI)