Event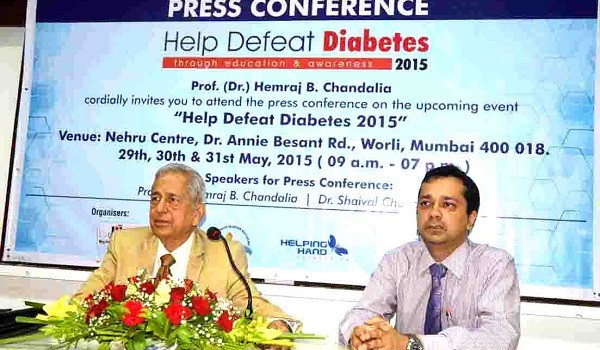 Published on May 31st, 2015
0
Attend: Help Defeat Diabetes 2015
The three day exhibition at Nehru Centre, Worli addresses all the concerns and illnesses associated with diabetes in the country.
by Ravi Shet
Diabetes has been affecting people throughout the globe. As per IDF Diabetes Atlas, 6th Edition (2014), 387 million in 2014 people have diabetes and estimates suggest this number will rise to 592 million by 2035. India ranks second in terms of patients affected from diabetes, approximately 66.8 million.
To address this concern, Diabetes Endocrine Nutrition Management and Research Centre (DENMARC) has organised a three-day day exhibition, titled 'Help Defeat Diabetes through Education and Awareness', at Nehru Centre which started from yesterday. The objective of the exhibition is to create more knowledge and information along with guidance to general public regarding different aspects of this disease.
Discussions on new therapies and techniques such as stem cell therapy, pancreatic and beta cell transplants clubbed with interactive sessions with experts on topics such as role of exercise, diet in diabetes, etc., are highlights of this exhibition. Morning sessions were in Hindi for yesterday, followed by Marathi on May 30 and Gujarati on May 31 while afternoon sessions are in English for the three days.
Diagnostic tests such as HbA1c, Retina Test, etc., are available at subsidised rates or free for the visitors. Located on the ground floor of Nehru Centre, 'Hall of Knowledge', has numerous charts displayed on diabetes complications, administration of insulin, self monitoring of blood glucose, diet and exercise that covers all relevant information for healthy living of diabetic patient. Don't miss the food pyramid created by the organisers keeping real food stuffs to make it more appealing.
(Picture courtesy forevernews.in)