Event
Published on January 19th, 2013
0
An enCounter between art and the city
Nidhi Qazi catches up with Hong Kong-based artist Clara Cheung, who creates electricity using plastic bottles, metal waste and seawater.
Artist Clara Cheung from Hong Kong sees Mumbai's sea water, used plastic bottles and metal waste as an opportunity. And how? She uses them all to unleash the Energy of Sea- the theme for her installation work at this year's edition of enCounters.
I catch Clara in action at Bandra's Carter Road promenade, a hotspot for various cultural activities the city hosts. From setting up the panel for her installation to getting down to work all details, Clara is all smiles. "My work tests the idea of how sea water of Mumbai can be used to generate electricity and help people." 'Best of waste' is a known practice internationally, and Clara's work is a case in point. She uses plastic bottles, seawater, aluminium cans and copper wires to generate electricity.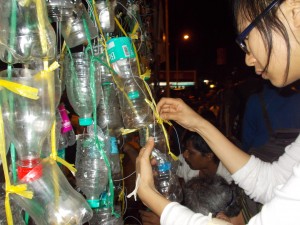 A standing panel is hung with plastic bottles cut in the shape of a bowl, and painted. The copper wires and aluminium waste from the cans have been fixed inside the cups, which are filled with saline seawater from the sea. With the forces of physics and chemistry backing them, the cups emit a faint and feeble glow, thanks to the electricity produced in the tiny bulbs attached to the copper wires.
"The amount of electricity is not great but it still gives us hope that we can find alternatives all around us. We can use the existing resources and wastes to construct something that is needed," says Clara. A curator with the C&G Artpartments, Clara is in Mumbai for the fourth edition of enCounters.
Celebrating art in the public spaces, Powerplay enCounters is a platform that brings artists closer to common people. "We want to create a connection between art, the people and their problems," says Claudio, co-founder, ArtOxygen – the organisation behind this project.
Claudio adds, "Such events don't aim at producing immediate outcomes. We use arts to generate curiosity among people. Through aesthetics, we want to trigger people to question their lives, surroundings, environment. They should not be satisfied with anything and everything around them."
The week long event closes on Sunday, January 20. A collaboration of ArtOxygen and Asia Art Projects, enCounters is a Mumbai-based the art initiative. Its previous themes in the three editions were Identities, Water and Land.
During the week, various artists from India and abroad displayed their works with the theme of Energy as the backdrop. The event had a number of workshops and interactive sessions to help artists connect with the people. One such event was the floor painting by artist Wai lun Chung whose objective was to make people think from other perspectives, apart from the obvious ones.
(Pictures courtesy Nidhi Qazi)