Event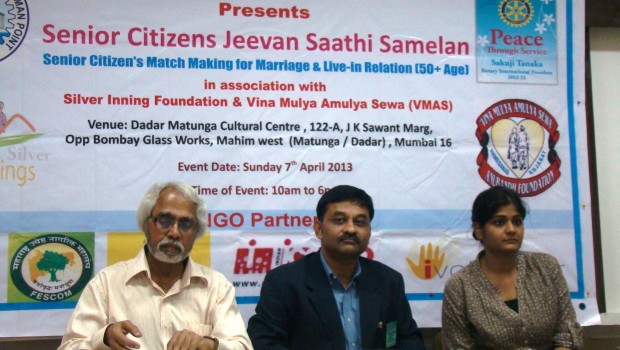 Published on March 15th, 2013
0
A wedding fair for senior citizens
A wedding fair for senior citizens looking for partners and live-in companions will be held at Matunga on April 7.
by The Editors | editor@themetrognome.in
All over the world, senior citizens are expected to settle down into quiet oblivion once they retire from work and cross the magic age of 60, silently watching as their families continue with their lives. In our country, however, the problem of 'old age' is compounded for those who lose a spouse to death or divorce – and the worst part is, we don't want to hear our senior citizens say, "I'm lonely. I want to get married again."
"With the trend of nuclear families increasing in our country, senior citizens are often left to fend for themselves. The country's senior citizen population is increasing. Today, 10 per cent of all Indians are senior citizens – 10 crore Indians are over 60 years of age, and 12,00,000 of them are in Mumbai alone," said Sailesh Mishra, founder of the NGO Silver Innings, which works for senior citizens in the country. He was speaking at a press conference held to announce a 'Senior Citizens Jeevan Saathi Sammelan', that will take place at Dadar Matunga Cultural Centre on April 7.
"When a senior citizen loses his or her spouse, he/she becomes really lonely, but they are not allowed to express it because society does not expect 'old' people to want a companion at that age," Sailesh explained. "Research shows that while the longevity of senior citizens in our country is going up each year, women have been found to outlive men. But again, it is very difficult for a woman of that age to say that she needs a companion, that she wants to spend the rest of her life with somebody. We feel that senior citizens should also get the chance to find a suitable mate," he said. To incentivise women's participation in the Sammelan, all women who attend the meeting will be given basic train fare, lunch and a saree.
The Sammelan is the brainchild of Natubhai Patel (62), the founder-chairman of Vina Mulya Amulya Seva (VMAS) in Ahmedabad, which has to its credit 75 senior citizen marriages and the setting up of 25 live-ins all over India. "We decided to do  such a big meeting in Mumbai because our research says that 39 per cent of senior citizens living alone in this city are senior citizens. With rising crime against seniors, and the fact that their twilight years can be better spent with somebody of their choice, the Sammelan aims to have willing senior citizens meet each other and make an informed choice about the partner they choose."
Sailesh added that women's participation in such meetings has been found to be very low. "We want more women to participate. Through our counselling sessions, we find that most men are looking for companionship, while women look for financial security. At that age, marriage is not required for sex, but more for love and security." On being asked if the organisers would ensure that no fraudulent members participated in the meeting, Sailesh said that all participants would be advised to carry out background checks before going ahead with the person they chose. "We will only facilitate the meeting, apart from helping with legal advice and marriage counselling when required," Sailesh said.
The Sammelan is not open to people below 50 years of age, or those whose partners are still alive. If divorced, the participant must produce documentary proof of the divorce, or if the spouse is deceased, the death certificate must be shown. An ID proof of age is mandatory. The Sammelan is open to widows, widowers, single people and divorcees, all over 50 years of age. The event is being organised by Rotary Club of Mumbai (Nariman Point), in association with Silver Innings and VMAS. Contact 099871 04233/ 09029000091 for details and registration.
Tomorrow: Who participates in these events? What are senior citizens in India expecting from their partners?