Eat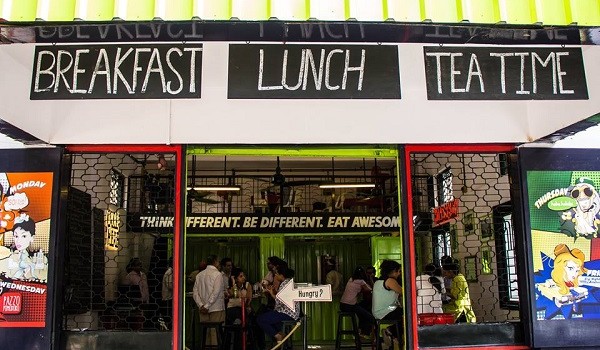 Published on May 29th, 2015
1
Review: Kaboom
Menus and cuisines that change daily, a quirky ambience and very tasty food are staple features of this Ballard Estate-based eatery.
by Ravi Shet
If you are tired of eating the same old restaurant food for years, you can try something different at Ballard Estate. For me, Kaboom has always been a place that helps me experience an explosion of taste, freshness, fun and innovation all under one roof.
The moment you step into this quirky space, you will see a canister at the right hand side beautifully converted into a trash bin, while on the left you can see the menu written on a blackboard. An old shipping container has been cleverly converted into an open kitchen. The red side table near the kitchen is made using a scrapped sewing machine with a sheet of glass over it. Also, scrapped milk canisters are converted to tables in a similar fashion. There is also a wall clock here with its hands stuck at 6 pm and the words 'Today is Friday' written below it.
Changing menus
If you visit on Monday, you will get South East Asian food, and European style cheese toasts on Tuesdays, Italian on Wednesday, Middle Eastern on Thursday and American on Friday. This daily rotation of the menu offers customers more options with different cuisines to try on a daily basis.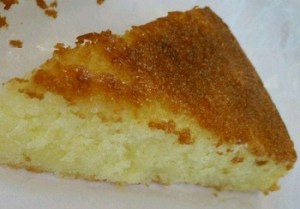 It was Wednesday when I visited, so Italian cuisine (Pazzo Pomodoro) was on the menu along with Italian music playing in the background. I started off with the Caprese Salad (Rs 170) served in a biodegradable container along with a biodegradable fork. Fresh buffalo mozzarella, baby tomatoes and basil used in the salad were fresh and refreshing in the hot weather. Their Panini Grilled Sandwich (Rs 230) consisting of mozzarella, tomatoes, Italian basil along with portions of chicken was really tasty and grilled to perfection.
The Pasta Pesto (Rs 250) consisting of penne pasta served with chunky sauce made with Italian basil, roasted almonds along with chunks of chicken was awesome. Finally to end to meal, I ordered a dessert – Lemon Cake (Rs 80) which has a lemon and semolina base and is seriously delicious and fresh.
Organic ingredients
All the ingredients used in the preparations here are sourced through organic farming practices – this reflects in the quality of the food. I was enchanted by the quirkiness of the space, as also the idea of a different menu every day. The use of biodegradable containers is a great idea, too. All in all, a very good eating-out experience.
Head to Kaboom, 3A Spott Road, Near Grand Hotel, Ballard Estate. The Metrognome reviews restaurants anonymously and pays for its meals.
(Pictures courtesy Ravi Shet and Kaboom)