Eat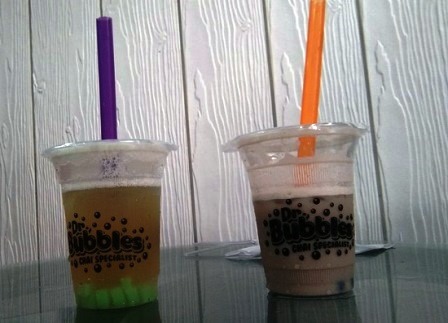 Published on August 19th, 2015
0
Review: Dr Bubbles Chai Specialist
Bubble tea is relatively unknown in Mumbai. We checked out a bubble tea cafe in Bandra but were left slightly disappointed.
by Ritika Bhandari Parekh
Rating: 3 out of 5
There is a new doctor in town and he goes by the name 'Dr Bubbles Chai Specialist'. Serving bubble tea in the queen of suburbs, the nondescript joint is located right opposite the Marks and Spencer showroom at Bandra's Hill Road.
The concept of bubble tea caught the Mumbai crowd's attention courtesy the new wok take-away restaurants mushrooming at every nook and corner.
Bubble tea is basically a drink that has the base of a tea mixed with milk and fruit jellies (or tapioca balls) to chew on. Introduced in Taiwan, bubble tea is a fairly new concept in Mumbai.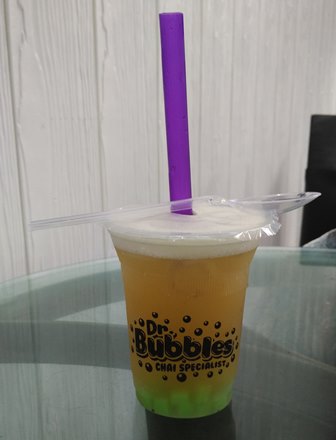 On entering Dr Bubbles Chai Specialist, we were greeted by smiling, white lab coat-wearing doctors (they are not real doctors, don't worry). One rattled off the rehearsed menu of Milk-based Bubble tea (priced at Rs150) and Fruit-based Bubble tea at (Rs 130). Dark chocolate, white chocolate, tapioca bubbles, mango bubbles, kiwi jelly, pineapple jelly were some of the available topping options. The jellies are vegetarian-friendly and are made from aloe vera.
Green melon, raspberry, passion fruit, strawberry are the other options for the fruit-based flavours. The milk tea choices are vanilla, rose, Irish, masala chai, jasmine, chocolate and hazelnut.
The owner readily helped us with suggestions. On asking why he chose to specialise in bubble tea, he said that it was a different idea than the regular cafes. Heeding his advice, we ordered the Hazelnut milk tea with tapioca and the Litchi fruit tea topped with Kiwi jelly.
The place suddenly started whirring with activity as our chais were being concocted. They put on a show of adding syrups from huge bottles and blending the crushed ice rigorously. A few shakes here and there, and the drinks were sent to be sealed off in a curious machine. They asked our preferred straw colour and we went to sit in their outside seating area.
The the first sip of the Litchi fruit tea topped with kiwi jelly was refreshing. It was sweet but not too much. The bursts of kiwi jelly went quite well with the litchi flavour.
But we were disappointed with the Hazelnut tea as it was heavy and the taste was lacklustre. The tapioca balls were very chewy and we had second thoughts about the topping. The milk tea was also a bit bland in taste. Maybe in our bid to settle for a less sweet version, we made the wrong choice.
Call it pearl milk tea or boba milk tea, the variants are many. But Dr Bubbles Chai Specialist will need to be spot-on in its suggestion mantra. The chais and toppings need to better pairing for customers to revisit.
The Metrognome reviews restaurants and cafes anonymously and pays for its meals.
(Pictures courtesy Ritika Bhandari Parekh)