Eat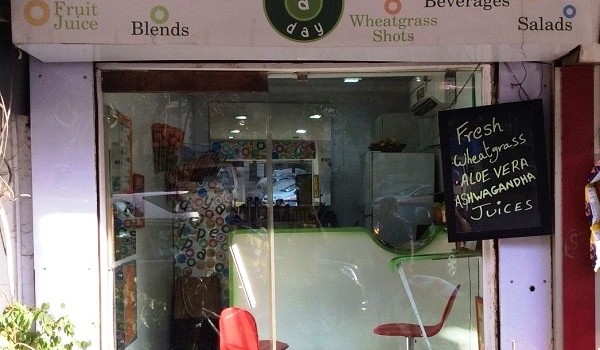 Published on May 21st, 2015
0
Review: Apple A Day
A perfect day starts with this Khar eatery, where fresh fruit juices will gladden your senses and fill your tummy.
by Ravi Shet
Do you want to start your day with fresh vegetable or fruit juice or a combination of both? Just walk down the road from Amjad Khan chowk and enter Apple A Day, a little joint situated next to Olive Bar & Kitchen, Khar. The place has two red-coloured bar stools and caters to the health- conscious.
Founded by the Sakpal brothers – Kiran and Sanket – this place has completed two years this month and is famous in the area for its fresh juices, shots, smoothies and salads. They also serve customised preparations as per the patrons' requirements.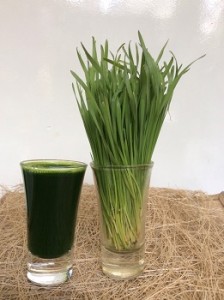 Through their open kitchen, I got to witness the preparation of their Wheatgrass Shot (Rs 69, in pic on left) served in a shot glass – this was a good way to start the rest of the tasting. I next tried their Carrot-Beet-Ginger-Mint (Rs 69) and Apple-Pineapple-Spinach (Rs 150), which are excellent. The chopping and blending of fruits and veggies are done once the order is placed by patron. What I really liked is that if you ask for sugar or any sweetening agent, you get an instant 'No' in answer.
They offer free home delivery and juices are delivered in thermostat bottles – they ask consumers to return the empty bottles. Monthly plans for Fresh Wheatgrass Juice (Rs 1818) and Fresh Fruit Juices/Blends (Rs 2828) are available for the patrons who wish to start their day with healthy juices on a daily basis. In a span of two years, they have built a base of a good number of regular customers; be it doctors, models and fitness buffs.
I will be heading there again soon, to try out their Orange-Beet-Carrot (Rs 100) and Pomegranate-Watermelon (Rs 150) which are best sellers, from what I hear. Cleanliness, good service and a wide range of juices (without added sugar and preservatives) makes this place rank high on my list.
The Metrognome reviews restaurants anonymously and pays for its meals.
(Pictures courtesy Ravi Shet)