Eat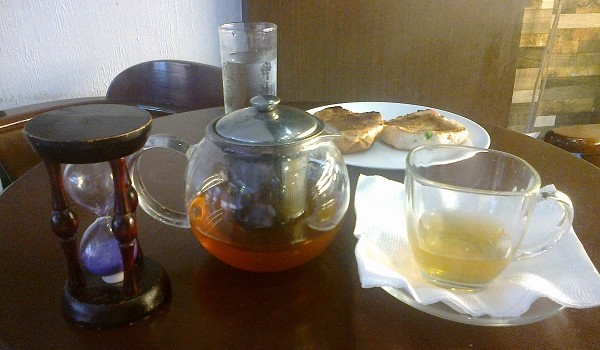 Published on June 12th, 2015
1
5 must-visit chai places in Mumbai
The rains have arrived in Mumbai, and it's time to have hot, piping chai. We give you 5 excellent options.
by Ravi Shet
Today, you probably woke up to sheets of rain and gloomy grey skies – the perfect setting for a hot cup of chai! There's nothing more soothing to the palate than a lovingly made cup of tea flavoured with ginger and elaichi or just lightly brewed.
If you're looking for a good chai place this season, let us help you out – in no particular order, we bring you a mix of five old and new places serving authentic Indian and international teas.
Cafe Colony Stores and Restaurant, Dadar East
Wooden furniture, glass jars filled with mawa cakes, khari and loaves of fresh brun pao…this Irani cafe is located near the corner of Hindu Colony and close to Tilak Bridge. Agha Nazariyan, owner of the place had bought this cafe in the 1960s; however the cafe has been in existence from 1933. Agha is very well supported by his children, the trio of brother and sisters – elder sister Bibi Sadhat, followed by Mirza and younger sister Bibi Fotehmeh. Mirza says, "We are open all days from 6 am to 10.30 pm to serve authentic and quality Irani food. My sisters man the counter and running the show makes me proud."
Bibi Fotehmeh says that the milk comes from Parsi Diary Farm and Amul butter is used for bun maska. "Our food is not so expensive, which helps us cater to all sections of people," she adds. Their Bun Maska (Rs 20) generously loaded with butter and dipped in Irani Tea (Rs 15) is an awesome combination. Also try their Kheema Pao (Rs 70).
Madina Hotel, Mahim West
Founded in 1975, this eatery with yellow benches and tables opens at 5.30 am and downs its shutters by 11:30 pm. It is located opposite Paradise Cinema. Their Appam (Rs 8) clubbed with well spiced and flavoured Vegetable Stew (Rs 25) is great, along with Special Tea (Rs 20) made from tea powder, sugar and milk without any added water. You will not leave the place without having two of their Special Teas. Krishnan, who has been running the eatery for the past 33 years, says, "Regular customers or new ones, everyone loves our Special Tea. Plus, I am serving good quality food at a reasonable price."
Tapri Tea Lounge, Sion
This place situated at TV Chidambaram Marg is a short walk from Sion Railway station. Co-founded by Priyanka Bhutra-Milak and Mayur Milak in September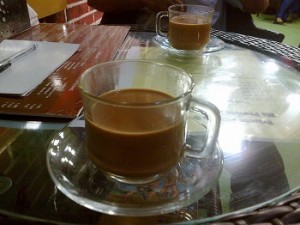 2013, this place has been serving different varieties of tea to its customers from 10 am to 11 pm on all days. Mayur says, "Despite being known as a tea nation, we hardly find dedicated tea cafes in the city. Hence we came up with this place to serve tea lovers a wide range of authentic tea." He adds that all their preparations are made from mineral water and Tetra Pak milk to enhance quality. I loved their Kulhad Masala Chai (Rs 64), served in authentic kulhads, as also their Truck Driver's Chai (Rs 64), a strong ginger-clove tea. Also try their Kashmiri Kahwa (Rs 85) are really worth trying, as also their air fried French fries (Rs 76). The place has a good collection of imported teas such as Ceylon Tea and Blooming Tea. In addition to this, they have a free Wi-Fi service along with Archie's comics, Uno cards and other indoor games at each table which help you dawdle at your table while sipping your chai.
Tea & Tea, Juhu
This little place in Juhu near the ISKCON Temple is the brainchild of the husband-wife duo –Gaurang Vora and Viya Vora. Viya says, "We both were in the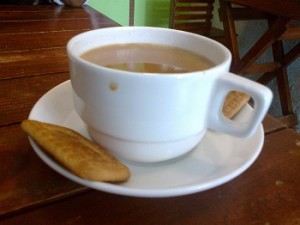 hospitality industry and saw that over the years, only dedicated coffee outlets were mushrooming. There were very few tea cafes, so we started Tea & Tea in May 2014." The place is open on all days from 10.30 am to 10 pm. "People in this city should have access to Indian and international teas, and they must also know the benefits of consuming tea," Viya adds.
Do try their hot selling items Mom's Special Tea (Rs 70) which has home-made tea masala prepared by Gaurang's mother, and Cleopatra's Champagne – Cammomile (Rs 150), sourced from Egypt, which relaxes you with every sip. If you are health conscious, try their Detox Tea (Rs 110) which comprises green tea, ginger, lemon grass and burdock. If you prefer your tea cold, try their Passion Fruit Iced Tea (Rs 120). Parle-G biscuits are served with Indian teas while butter cookies are served with other teas. Play Uno or read books available here in between sips.
Tea Villa, Vile Parle East
Micky Panjwani and Roopanshi Bhatt, both event management professionals, founded this place in August 2014. It opens at 10 am every day and is a short walk from Vile Parle railway station. Micky says, "When we used to work, we never found good tea places where you could relax while you have your chai. So we started this place, where you could come with family and friends." Roopanshi adds, "We started out serving Indian teas as well as premium ones such as Berry Blush Tea, Moon White Tea and side dishes; however customers demanded milkshakes, pastas, waffles and so on." Their Mint Tea (Rs 120, in main picture above) and Kashmiri Saffron Kahwa (Rs 220) are really worth trying owing to their fresh ingredients. Also savour Bun Maska (Rs 70), Punjabi Samosa (Rs 75) and Peri Peri French Fries (Rs 120) if you're hungry as well. They offer free Wi-Fi too.
(Pictures courtesy Ravi Shet)