Eat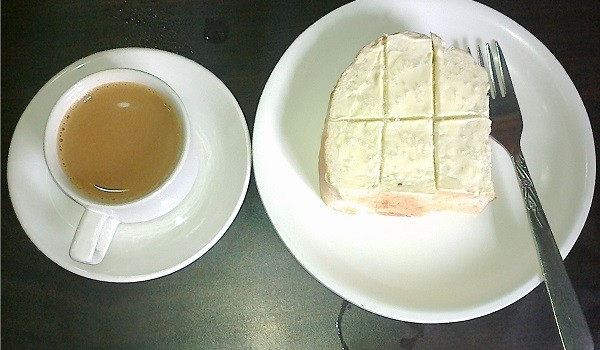 Published on April 24th, 2015
1
5 early morning meal places in Mumbai
Want a good breakfast but tired of your usual neighbourhood haunt? Try these five city-based places for your day's first meal.
by Ravi Shet
Anybody will tell you that breakfast forms the most important part of one's daily diet. Skip breakfast and you end up feeling lethargic and tired for the rest of the day.
But where should you go to have your day's first fulfilling meal? We picked out five places for you to try out.
1. Bele's Ashok Dugdhalaya, Byculla West
Craving hot jalebis with fafda, papdi and dhokla? Visit Bele's Ashok Dugdhalaya, situated near Byculla station. This place has been serving Mumbaikars from the year 1950 and has been serving piping hot jalebis (Rs 20 per plate), papdi (Rs 20 per plate), and dhokla (Rs 20 per plate). They also serve masala milk (Rs 30) which is a definitely worth a try. Their sweet samosa (Rs 12 per piece) has a coconut, mawa and nut stuffing and is really good!
Chaitanya Bele, owner of the establishment, says that they are open for public from 6 am to 10.30 pm on all days and most patrons ask for hot jalebis with papdi or fafda. He also says that earlier people who were working in nearby mills and markets use to frequent the place for their jalebis along with hot milk, however these customers have disappeared after the mills closed down and the market shifted to Vashi.
Must try: Masala milk with jalebis and sweet samosa.
2. City Bakery, Worli
If you are passing by Worli naka in the early morning hours, your nose will immediately pick out the unmistakable aroma of freshly baked food in the area.
Established in 1953, City Bakery opens at 5 am and instantly overwhelms the surrounding Worli naka with the aroma of baked goodies. Co-owned by the Dashti brothers – Mehdi Dashti and Jafer Ali Dashti – this bakery is a haven for people looking for good baked food for breakfast – right from kadak pav to croissants to pastries. Mehdi Dashti says, "Our place opens sharp at 5 am on all days irrespective of the weather. Our prices are also not heavy on the pockets, so that we can cater to all people." Their mint chutney croissants (Rs 23), jam Danish pastry (Rs 23), pizza sandwich (Rs 36) and chocolate éclair (Rs 39) are awesome gastronomical delights!
Must try: Jam Danish pastry and chocolate éclair.
3. Hotel Ram Ashraya, Matunga
Located near Matunga railway station, this place is a hub for people craving South Indian breakfasts. Founded in 1939 by the late Shyam Shetty, this place is open as the clock ticks 5 am, except for Mondays when it is closed. Pudi upma (Rs 38), idli (Rs 32), sabudana wada (Rs 37) and tea (Rs 20) are the stuffs worth trying out here in the early hours of the day. Also try their yummy kesari sheera (Rs 35) loaded with ghee, nuts and raisins. Amarjeeth Shetty and Akshay Shetty, the family's third generation, are maintaining their legacy today.
Must try: Pudi upma and kesari sheera.
4. Madina Hotel, Mahim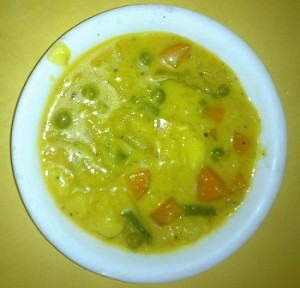 Located opposite Paradise Cinema, this hotel with yellow benches and tables is worth visiting for its awesome food at unbelievable prices. Running from 1975, this hotel has been serving its customers right from 5.30 a to 11.30 pm. Be it Special Tea (Rs 20), or appam (Rs 8) along with vegetable stew (Rs 25) are super-hits (also on your pocket!) You can also try their chana masala (Rs 25) if you like spicy food. Mr. Krishnan who has been running this place for the past 33 years, says that there used to be a crowd waiting to rush in the moment the place was opened; however, for the past five years, people are coming in good numbers mostly after 7 am. This is a good destination for authentic Kerala style food.
Must try: Appam with vegetable stew and special tea.
5. Neo Welcome, Ghatkopar West
Looking for creamy white chutney and thick delicious sambhar along with soft and hot idli? Head to this place which is opposite Ghatkopar railway station. Founded by the late Muddanna Shetty in 1956, this place has been rolling up its shutters from 6.15 am on all days, except for Tuesdays when it is closed. Sheera upma mix (Rs 50), idli (Rs 45), bread butter (Rs 30) and tea (Rs 20) are their hit items in the early morning hours. Sagar Shetty, co-owner, says that his grandfather never compromised on the quality of food. "Treating customers well and giving them home-like feeling was his mantra and the second and third generation Shettys are also continuing the same tradition," he says, adding that their food uses their own masalas.
Must try: Idli and sheera upma mix.
(All pictures courtesy Ravi Shet)