Eat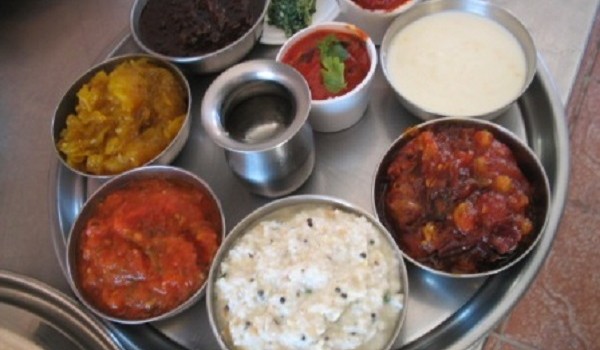 Published on July 4th, 2014
0
10 chutneys you can find in Mumbai
Mumbai is home to some awesome cuisines and the secret ingredient that rocks even the dullest fare – the humble chutney.
by Mamta D | @silverlightgal on Twitter
In 1990, when an NRI woman entrepreneur, Namita Panjabi, opened her first Indian restaurant in Chelsea, London, she named it Chutney Mary to commemorate the humble Indian condiment that is today making waves all across the globe. Originally called chatni, this ubiquitous condiment has its roots in Eastern India as early as the 16th century.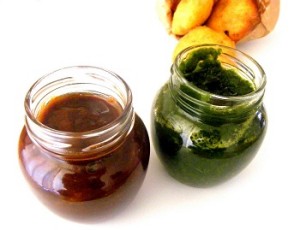 As you move from one region to another in India, you will come across a variety of ways in which chutney is prepared.
Chutney may be raw or cooked; the former is a concoction of vegetables and the latter a mixture of chopped fruit, vegetables, vinegar and spices.
An Indian housewife can transform an otherwise drab meal into an interesting fare simply by using her imagination and producing innovative varieties of chutneys. Raw radishes, tomatoes, onions even boiled gourd peels and dried orange peels have their own special chutneys.
Chutneys have exceptional medicinal benefits too. Chutney prepared from fresh green curry leaves is said to be an excellent source of iron and protein. Though they were never allowed to go outside frequently in the early days, Indian women nevertheless had extreme ingenuity and skill and demonstrated this in churning out one variety of chutneys after another.
When it was found that these raw chutneys could not last more than a day, the ladies applied further ingenuity and came up with yet another trump card – chutney powder. Spices were roasted and ground with bits and pieces of dried vegetables, peels or leaves. For instance, curry leaves were dried in the sun and finely powdered with roasted spices. The end result – a long lasting, tasty, tangy chutney powder.
Here in Mumbai, we can come across these 10 types of chutneys:
The fiery red lasoon or garlic chutney
The 'lasoon chutney', a concoction of garlic and red-hot chillies, garnishes meals to add a fiery dash or to just the local dialect, 'mirchify' the meal, be it a dal rice or a simple fare of bhakar. The lasoon chutney is also popular with vada pav makers, who liberally spread it on the pav before dumping the potato vada on it.
The green pudina/dhania chutney
The green chutney typically made of fresh coriander leaves (dhania) or mint leaves (pudina), ginger, garlic, salt and chillies is often used in preparing sandwiches. It can also make a drab chapati tastier when spread over it.
The mirchi thecha
A coarsely ground mixture of raw green chillies, roasted peanuts, salt and garlic and optionally, a few drops of lime juice, this is a quickie, in the sense that it can be made within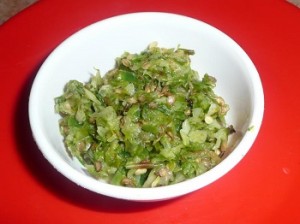 minutes, with the slightest of efforts (in pic on right).
The coconut chutney
This goes well with sabudana wadas, steamed idlis, dosas, and the like. It's often made of freshly grated coconut, salt, green chillies, and a little bit of tamarind, with a slight variation here and there.
The sweet-sour chaat chutney
Every streetside chaat vendor swears by this. From the bhel puri to the sev puri to the paani puri, this chutney is a given in every chaat dish. In swanky restaurants, there is a more elegant version on offer, but when it comes to lip smacking, finger licking taste, the street side version wins hands down.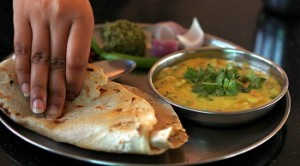 Pithle (also called Bombay chutney)
A typical Maharashtrian favourite, this one is made of besan or gram flour paste, and is served as an accompaniment to poori, chapatis, and so on (in pic on left). Though, unlike the other chutneys, this one is not entirely made of raw stuff but requires some amount of cooking on the stove; it can be made in a jiffy and requires very few ingredients.
Raw mango or kairi chutney
This is a seasonal chutney and is made only in the summer. The spicy tangy combination of raw green mangoes (kairis) with red chillies, topped with a seasoning of mustard seeds, is set to be a mouthwatering winner when served in any menu. People eat it with dosas, pooris, chapatis, and even mix it with plain steamed rice.
Tomato chutney
Though originally a South Indian delicacy, today it has been well adopted into the Maharastrian palate. Made from ripe red tomatoes, cooked for long hours on a slow flame with lots of oil and spices, this one can last a whole year and is often stashed away in bottles for a rainy day.
Radish or mooli chutney
Again, this is an import from other States, which has slowly made its way into Maharastrian homes. Ideal for the chill winter months, this heat-inducing radish chutney is made of raw radish, garlic, salt, jaggery, and either red or green chillies.
Pineapple chutney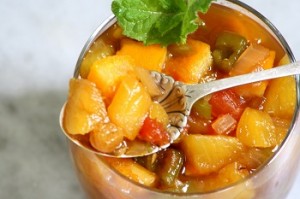 Yet another outlander to the traditional Marathi cuisine, this one has probably been smuggled into the State by the Maharashtra-Karnataka (food) border outlaws. It is sweet, spicy, and tangy in parts, because of the pineapple chunks, the red chillies and the tamarind that goes into its making.
Did we miss any chutneys that are commonly available in Mumbai? Tell us about them in the comments section below.
(Pictures courtesy www.iskcon.net.au, vegetarianzest.blogspot.com, www.madhurasrecipe.com, www.saffronsunshine.com, whatscookinginyourworld.blogspot.com)