Do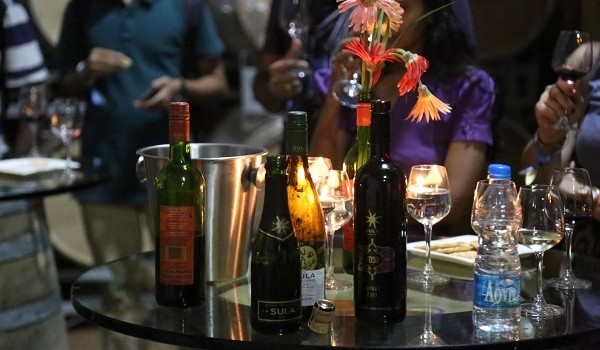 Published on February 12th, 2015
0
Sula Fest 2015: A roundup
Nashik rocked – like it annually does – as it hosted the Sula Fest, its wine, food and music jamboree.
by Salil Jayakar | @Salilicious on Twitter
All roads from Mumbai led to Nashik over the weekend where Sula Vineyards was hosting Sula Fest – its annual wine, food and music jamboree. Naturally, the mood among the revelers was quite high what with all the free flowing wine.
But among the usual wine and cheese tasting tours, the music and the food, here's our pick of the unusual and interesting…
Everyone's favourite ad man Prahlad Kakkar (seated at extreme left in pic) caught us quite by surprise as he deftly took orders and dished out plates of vegetarian and chicken biryani at the food court! The ad man popped up a stall for his office cook who has been making meals for him for the past 40 years. "My cook makes the best biryani. Till some years ago, we had an open house in my office every Saturday where we'd feed 15 to 20 people," he said.
We were thrilled to see winemaker Hardys at Sula this year who came on board as wine partner. As we sampled their reds and whites with Thai prawns curry and veg ravioli, we got chatting with Mumbai girl Najeshda Deshpande, Sula's import manager. Born and raised in Vile Parle, Najeshda's (means 'Hope' in Russian) love affair with wine began on a holiday in Australia. "I was done with number crunching and didn't quite know what to do next. I made friends with wine-making surfers and here I am today," she told us. You go girl!
Celebrity chef Saransh Goila (in pic on right) who's quite the regular now at all such dos kept us quite entertained over the two-days we hung out with him. The
reality TV star is all set to release his first book, a travelogue with recipes from his travels. The 70,000-words tome should be an exciting read, we hope. "My favourite author Ruskin Bond kindly consented to write a few words for me in the book. I'm thrilled!" said Saransh.
By far the biggest draw on Day 1 at Sula Fest was the American indie rock band Young the Giant with the 'desi' connect. Lead singer Sameer Gadhia, half-Gujarati and half-Bengali, was studying Human Biology at Stanford before he dived headlong into the music scene. With performances at the Video Music Awards a few years ago and a Top 50 appearance on the Billboard 200 albums chart, this desi boy had the girls swooning.
Chief winemaker Ajoy Shaw took us on a tour of the Sula cellars and we came away quite impressed with their sustainability efforts. The cellar has skylights to let in natural light and also has two entire roofs with solar panels that provide almost 15 per cent of their electricity requirements. With rainwater harvesting, composting, spot application at vineyards and encouraging natural predators, Sula's green efforts are quite commendable. "Our aim is to reduce our water consumption by 5 per cent every year and do our bit to conserve natural resources," he said.