Do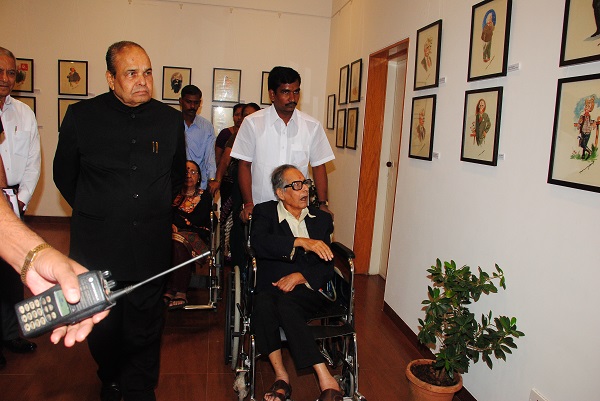 Published on December 13th, 2013
0
RK Laxman, in an exhibition
Over 200 of the legendary cartoonist's works are being displayed at Worli's Nehru Centre Art Gallery till January 5, 2014.
by The Editors | editor@themetrognome.in
Journalists and students of the profession will often remark on the role and importance of the political cartoonist in the newspaper's overall scheme of things – and lament at the absence of the cartoonist in contemporary media.
Hence, it is heartening to visit an exhibition of works by India's best-loved political cartoonist, RK Laxman. The exhibition, the 21st in the 'Indian Master's Retrospective', was inaugurated by Maharashtra State Governor K Sankaranarayanan at the Worli-based Nehru Centre Art Gallery, and the works have been curated by the Gallery's Assistant Director, Nina Rege. The showing includes over 200 cartoons, old and new, made by Laxman.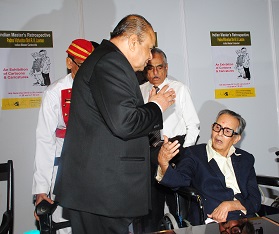 Speaking at the inauguration, the Governor said, "Few cartoonists have held forth such a long sway over readers as RK Laxman has done with his remarkable work, day after day and year after year for 60 long years. He has been a 'people's representative' in the real sense of the term for all these years.  He gave face to the aam aadmi in our country. Through his cartoons, he has represented the silent millions of the country, voiced their real problems and raised their issues forcefully in the corridors of power.
"Very importantly, Shri Laxman has explained to the readers a range of complex political, national and international issues using his master strokes and a few simple lines. Personally, I rate the cartoonist a few notches higher than the Editor."
The Governor exhorted the public to visit the exhibition as it "brings to light some of Shri Laxman's best and yet less known works.  It has also brought out Laxman, the artist. His sketches of personalities and landscapes are outstanding and prove his brilliance as an artist."
A new book,  Finely Exaggerated, will also be released during the exhibition period.
Head to Nehru Centre Art Gallery, Worli, from 11 am to 7 pm. The exhibition is on till January 5, 2014. Call 022 24963426 for details.
(Pictures courtesy Raj Bhavan, Mumbai)