Do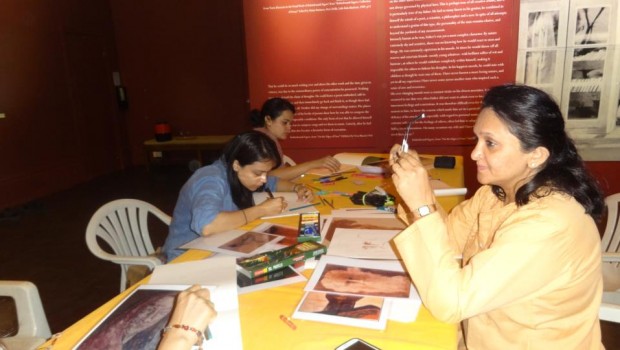 Published on May 15th, 2013
0
Never too old to sketch
That's what drives the landscape and portrait sketching workshops for adults at the NGMA, with some Rabindranath Tagore thrown in.
by Medha Kulkarni
Summer time is vacation time. There are a plethora of all kinds of workshops and events for children. But what about the adults? Why isn't there ever a hobby class or summer workshop for adults?
This summer, the National Gallery of Modern Art (NGMA) is set to right this wrong by organising workshops specifically for adults. As a part of The Last Harvest exhibition curated by noted art historian Prof R Sivakumar to commemorate the 150th birth anniversary of Tagore on May 8, 2012, the workshops aim to provide a hands-on, practical insight into Rabindranath Tagore's style of painting and his use of mediums and their execution.
The workshops start with a tour of the exhibition, and a discussion on the works before splitting into two separate art workshops. The portrait-sketching workshop will be conducted by Parul V Mehta and the landscape sketching one will be conducted by Geeta Kapadia. Both Mehta and Kapadia are practising artists and have exhibited in galleries in India and abroad.
The interactive sketching workshops will open up a new avenue through which Tagore's works can be studied while highlighting the importance of portraiture and landscapes in his works. Aside from the sketching lesson, participants will also gain a detailed understanding of Tagore's humanistic qualities and his various achievements in the field of arts in India and internationally, juxtaposed with little-known facts about his personal life and family, glimpses of which can be seen in the works.
The workshops will be held at the NGMA every Wednesday from May 8, 2013 to June 5, 2013 from 11 am to 1 pm. The workshop is free and open to all although seating is limited (20 people per session) so it's best to register beforehand. You can email Parul at parulvmehta@gmail.com to register. All sketching materials will be provided to the participants.