Do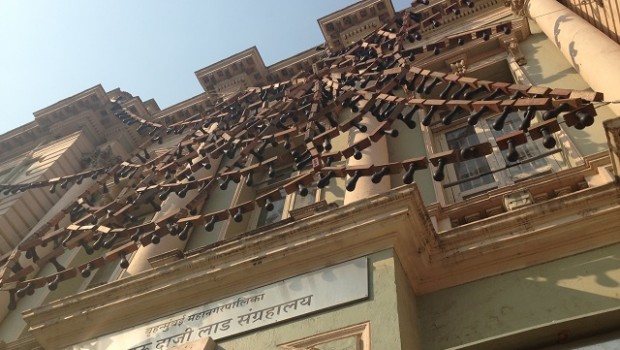 Published on March 30th, 2013
0
A rubber stamp existence
Reena Kallat's ongoing exhibition at the Bhau Daji Lad museum has literally stamped its authority all over the building's façade.
by Medha Kulkarni
An off-the-beaten-track thing to do this Sunday – if you haven't already planned a movie/outing with family and friends/a booze party/ all of these would be to head to a museum. Not just any museum; specifically, the Bhau Daji Lad Museum, Byculla.
Why? Because it's hosting a stunning exhibition by artist Reena Kallat. Titled 'Untitled (Cobwebs/Crossings)', the exhibition is a part of ZegnArt Public/India, an international project created by Ermenegildo Zeg
What it's about
'Untitled' is an impressive work that captures the attention of the viewer with its sheer presence. Several rows of rubber stamps are strung together to create a cobweb that covers the entire façade of the museum (see featured pic). The work seeks to invoke ideas of bureaucracy and the passage of time; thus each rubber stamp actually has the name of a street (in the city) that has since been renamed.
According to Kallat, the work is "a visual representation of the cobwebs of the past and of memories that clutter our spaces and will eventually fade away with time." The project was chosen out of a group of seven artist proposals (by artists like Gigi Scaria, Sakshi Gupta, etc.) by the museum and ZegnArt Public. A separate gallery space is devoted to the other artists' ideas and works, for the benefit of the viewer.
ZegnArt Public believes that the public space can be inhabited in several ways to facilitate negotiation and exchange and encourage critical thinking and dialogue and thus aims to explore this possibility within diverse contexts. India has been selected as the first country for this intervention and thus ZegnArt has partnered with the museum to put to test this notion of public space vis-à-vis the urban fabric of India's most dynamic city,Mumbai.
On view till April 14, the museum also organises curated walks every Sunday that seek to create a dialogue between art and the viewer. Kallat has referenced old street names and forgotten histories as nodal points in her exhibition, and these are used as a starting point for the walk. The walk covers the length and breadth of the exhibition and then continues on through the Museum's permanent collections that highlight the faded memories and the constantly changing identity of the city.
The best part about the walk is it is organised in English and Hindi/Marathi and the price is included in the Museum entry fee. Walk timings are 11.30 am for the English walk, and 30 minutes past noon for the Hindi/ Marathi one.
(Picture courtesy blog.saffronart.com)